ACT and SAT Test Prep
FLEX Test Prep courses for the ACT and SAT are designed to maximize students' scores in the most efficient way possible. Students are coached by expert instructors, all of whom are top scorers in the subject areas that they teach. In addition, instructors and curriculum writers routinely sit in for standardized exams, continually updating and refining strategies based on real-time information from the test-makers.
SAT Target August 28
SAT Honors Target August 28
* Honor students must have scored 650+ on the SAT EBRW or SAT Math (Official or Unofficial)
ACT Target Sept 11
ACT Honors* Target Sept 11
* Honor students must have scored 30+ on the ACT (Official or Unofficial)
FLEX 20th Anniversary Promos
In celebration of FLEX's 20th anniversary, FLEX is offering students the option of Buy One Get One FREE (BOGO) for FLEX academic classes, or 20% off one summer class.
Use promo code FLEXSUMMER20 at checkout for a 20% discount on the class.*
Use promo code FLEXSUMMERBOGO at checkout to register for the promotion, and then contact academics@flexcollegeprep.com to redeem your FREE class.*
* BOGO offer must be used during 2021. Classes are all virtual. Free class must be of equal or lesser value than the purchased class. There will be no refunds, credits or transfer of service for the complimentary course. FRMP, Biology Olympiad Prep, and Scratch Coding courses are not eligible for the FLEXSUMMER20 and FLEXSUMMERBOGO promotions.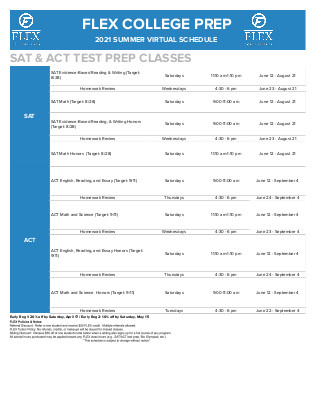 Contact Us
Have questions? Need help?
Click to contact us.
Have questions or need more info?
Fill out the contact form below and we will quickly direct your inquiry to the appropriate person.