Upcoming FLEX Events and Webinars
Pre-Med and BS/MD Programs - What It Takes to Get In
Many students have aspirations to become a medical doctor, but may not necessarily know the additional commitment and requirements needed to have a successful journey. Please join our webinar to learn more about BS/MD programs and what it means to be pre-med. FLEX presenters will go over what it takes to get accepted into BS/MD programs and whether a BS/MD program is right for you.
---
Changes & Trends in College Admissions
As you navigate the ever-evolving college admission process, hear what to do and what not to do directly from FLEX counselors whose students achieved their college dreams.
---
Summer Planning - Making the Most of Your Time
FLEX is here to support students going through the uncertainty and give tips on how to fill their summer break with activities to supplement their academic profile. Attend our webinar to learn about the steps you can take to make the best out of your summer!
Oct 2022 Events & Webinars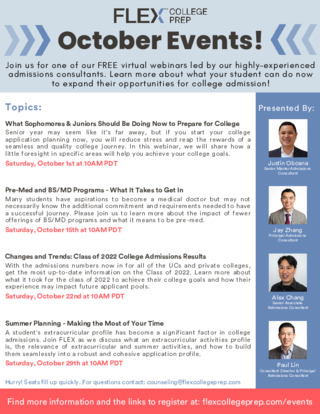 Free Consultation
Want a free 1-on-1 consultation?
Click to schedule an appointment!>
Free 1-on-1 Consultation
Want a free 1-on-1 consultation? Fill out the form below and a FLEX Manager will contact you to schedule an appointment!