Upcoming Webinars
Class of 2023 College Admissions Trends: Analyzing Surprising Results
This year's application results show how colleges have continued to adapt to the changing college admissions landscape including the importance of demonstrating personality in the holistic review. How can students develop a successful college admission strategy by adding texture to their applications?
In this webinar, FLEX's expert counselors reveal some surprising results for the Class of 2023. Get the statistics on FLEX students' admissions to see what worked (and what did not), and meet some of our counselors who supported these students in getting into their target colleges!
Events & Webinars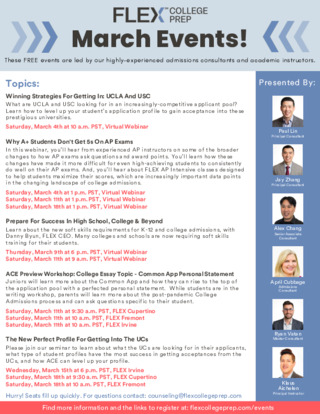 Free Consultation
Want a free 1-on-1 consultation?
Click to schedule an appointment!