Upcoming Webinars
Maximize Your College Application Strategy During COVID: Review Student Cases with Former Admissions Officers!
Meet FLEX's panel former admissions officers and ask them anything regarding college admissions in this interactive Q&A webinar. Learn about the changing landscape of college admissions and get guidance and tips on how to ACE your college applications.
Sat, Dec 12: East Coast Colleges and Universities
Sat, Dec 19: West Coast Colleges and Universities
Is Your AP Exam Prep Good Enough?
Due to the reduced virtual instruction schedule, many are concerned that students who earn A's in school classes might not be well prepared for AP exams in May. But as colleges increase their focus on AP test scores, getting ready for the AP exams is more important than ever before, and FLEX AP Assessments are a perfect way.
Middle School Students, Get a Head Start!
Come find out what middle school students can do to get a head start on their college prep efforts.
What Juniors Must Know About College Apps
Juniors may feel that applications deadlines are still in the distant future, but may not realize how much work is required to get their first application submitted. Come find out what juniors can do to prepare for the hugely time-consuming task that lies ahead.
December Webinars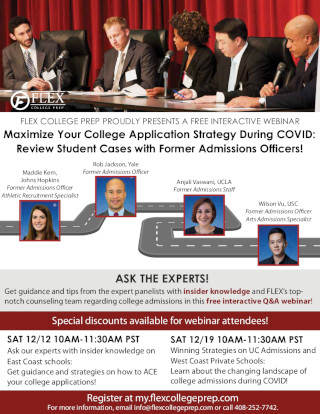 Contact Us
Have questions? Need help?
Click to contact us.
Have questions or need more info?
Fill out the contact form below and we will quickly direct your inquiry to the appropriate person.