FLEX AP Exam Prep
FLEX AP prep classes are designed to both cover course content and give students focused practice with AP exam style questions, particularly free-response questions. Sessions will center around developing student understanding of the key concepts valued by and tested on the AP exams. This conceptual understanding will allow students to retain the necessary information better and help them understand how their knowledge will be tested on the exam.
In addition, students will practice extensively with real AP materials, both multiple choice and free response questions. Many students struggle to score well on the FRQ section despite feeling like they know the material. Conversely, sometimes students are intimidated by aspects of the question and fail to communicate what they know. Our experienced instructors will go through the scoring guidelines with students and demonstrate how to maximize their performance on this feared section of the exams.
No AP Exam Prep classes at this time
FLEX 20th Anniversary Promos
In celebration of FLEX's 20th anniversary, FLEX is offering students the option of Buy One Get One FREE (BOGO) for FLEX academic classes, or 20% off one summer class.
Use promo code FLEXSUMMER20 at checkout for a 20% discount on the class.*
Use promo code FLEXSUMMERBOGO at checkout to register for the promotion, and then contact academics@flexcollegeprep.com to redeem your FREE class.*
* BOGO offer must be used during 2021. Classes are all virtual. Free class must be of equal or lesser value than the purchased class. There will be no refunds, credits or transfer of service for the complimentary course. FRMP, Biology Olympiad Prep, and Scratch Coding courses are not eligible for the FLEXSUMMER20 and FLEXSUMMERBOGO promotions.
Spring AP Prep Classes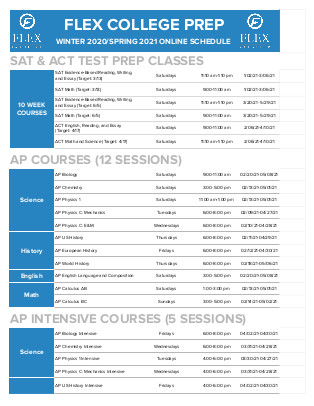 Contact Us
Have questions? Need help?
Click to contact us.
Have questions or need more info?
Fill out the contact form below and we will quickly direct your inquiry to the appropriate person.