Application & College Essay (ACE) 2022
Lost on how to navigate the upcoming challenges of college admission? Get clarity and direction with FLEX College Prep's distinctive Application and College Essay (ACE) Program. FLEX lifts the fog of college admissions, providing you with clear, up-to-date, reliable information and advice.
ACE Program Overview
Designed for 11th & 12th graders, FLEX's ACE program supports students through every step of their college application and essay-writing process.
Beginning in January--the 2nd semester of junior year, a dedicated admissions consultant will assist the student to strategically plan a college application profile, select the right major, and cultivate a list of target colleges.
An experienced essay specialist will work alongside the student and their consultant to guide the essay-writing process, set a completion schedule and ensure the final product is polished and engaging and ready for submission.
The ACE program culminates in a full application review for students who submit by the deadline, by a panel of admissions experts, (former admission officers) before the student officially submits their applications.
Package Details:
Jan-May: College Essay Pre-Writing
Feb-Mar: College Research & Tour Planning
Feb-Mar: Resume Prep
Jun-Nov: College Essay Writing
Jun-Jul: College List & Early Application Strategy
Jul: FLEX Distinctive: FLEX Admission Committee Review of your early application by former college admission officers
Aug: FLEX Distinctive: UC Application Review of your UC application and essays
Sep-Nov: Admission Interview Prep
Special discounts available for early registrations! Call or email your local FLEX center today to set up a free consultation!
Download Program Flyer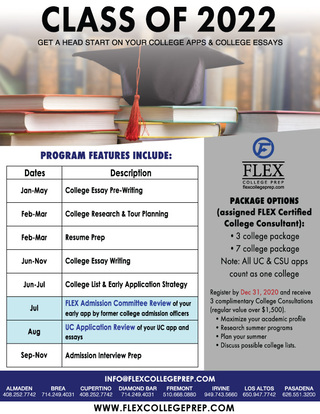 Track 1: January Start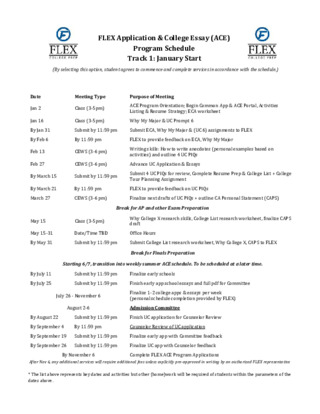 Track 2: March Start
Track 3: June Start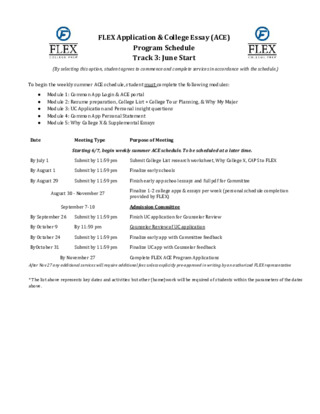 Contact Us
Have questions? Need help?
Click to contact us.
Have questions or need more info?
Fill out the contact form below and we will quickly direct your inquiry to the appropriate person.