2022 FLEX Essay Contest & Writing Workshop
2022 FLEX Essay Contest & Writing Workshop
NorCal competition in partnership with the India Community Center
SoCal competition in partnership with FLEX Irvine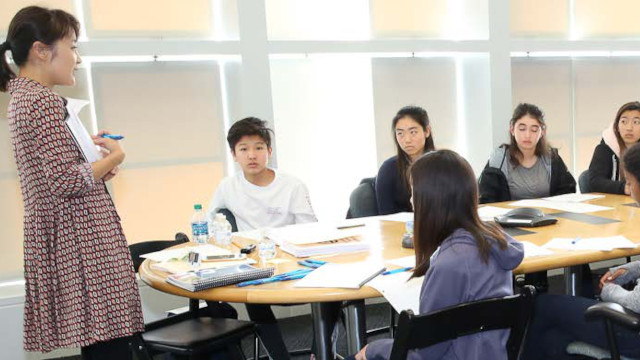 Win a Summer Workshop with The Stanford Daily! Earn College Scholarship Awards!
Students from grades 6-12 will hone their writing skills in a supportive academic environment. Professional writing teachers, including one of this year's PEN America Literary Award winners, Yoon Choi, create a dynamic and fun environment to discuss various current event topics, learn to write persuasively, and draft essays.
Students will be given a topic to write about. This experience will be a great way for writers at all levels (from the beginner to the most accomplished) to improve their writing skills in a low-pressure environment.
Wordsmith your way into an unforgettable summer experience with the journalism team at The Stanford Daily, the newspaper of Stanford University.
Featured Instructors
9th-12th Grade: Yoon Choi, FLEX HeadStart English & Writing, Program Director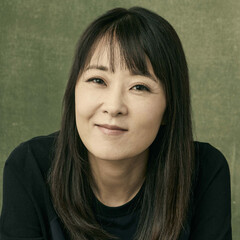 Winner of the PEN/Robert W Bingham Prize
Guest Writing Lecturer at Stanford, USC, State University of NY, Chapman University and more
Stanford University Stegner Writing Fellow
Johns Hopkins Center for Talented Youth (CTY) Instructor and Curriculum Developer
6th-8th Grade: Dr. Henry Rownd, FLEX College Prep Principal Instructor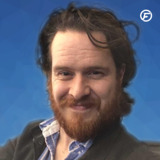 B.A. from Carleton College & PhD from Stanford University
Teaching Subjects: AP English Language Composition, College Essay, and Creative Writing
Upcoming Contest/Workshop Dates
For more information, contact academics@flexcollegeprep.com

Event Flyer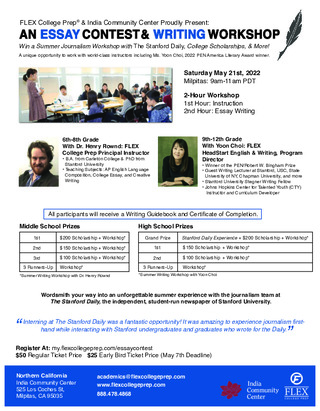 Competition Dates
NorCal: Sat 5/21, 9-11am
India Community Center
525 Los Coches St.
Milpitas, CA 95035
SoCal: Sat 5/21, 3-5pm
FLEX Irvine
2860 Michelle Dr. #220
Irvine, CA 92606

Entry Fees
$50: Regular Price
$25: Early-Bird (by May 19, 2022)
2-Hour Workshop
1st Hour: Instruction
2nd Hour: Writing
High School Prizes
Grand: Stanford Daily Experience + $200 Scholarship + Workshop*
1st: $150 Scholarship + Workshop*
2nd: $100 Scholarship + Workshop*
3 Runners-Up: Workshop*
* HS Summer Writing Workshop with Yoon Choi
Middle School Prizes
1st: $200 Scholarship + Workshop*
2nd: $150 Scholarship + Workshop*
3rd: $100 Scholarship + Workshop*
3 Runners-Up: Workshop*
* MS Summer Writing Workshop with Dr. Henry Rownd
All participants will receive a Writing Guidebook and Certificate of Completion.